PUSHING THE ENVELOPE OF CLEAN BOOSTING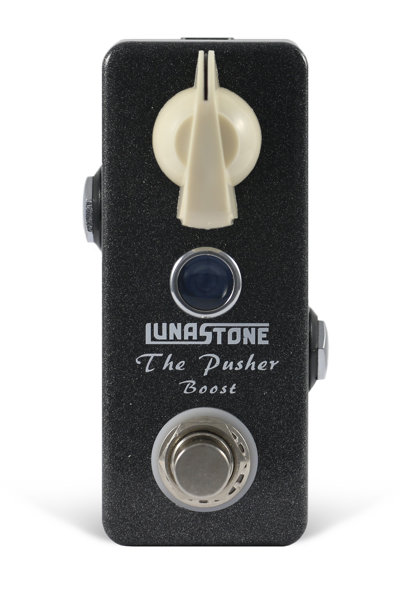 This pusher deals in pure power! He is a small yet persuasive friend to have, and he packs a mighty punch.
Whether you want to push your tube amp into natural overdrive or just need to lift your solos above the band, the Pusher always deliver pharmaceutical-grade, clean goodness!
Where other boosters just make you louder, The Pusher takes a more refined approach to boosting by enhancing and focusing the tonal spectrum where your guitar lives. Turn it on and instantly hear your tone stand out with renewed clarity, definition and punch, as if you were pushing the tubes of a high-headroom amp, making it perfect for beefing up clean rhythm parts or making melody lines stand out.
But hey, if you just want to use it as an always-on tone enhancer we definitely won't blame you!
However, if you wanna get dirty though (and we know you do!) The Pusher is the obvious choice for taking your tone from driven to blissfully wild. Crank it and slam it in front of your favorite drive pedals, or feed it straight into your already overdriven amp and get ready to hit the crowd with everything plus the kitchen sink. From crunchy blues rhythms to hard-hitting power chords and sizzling solos, The Pusher will give you exactly what you bargained for.
Now add True Bypass switching to the mix, so your core tone never gets corrupted, and you've stepped onto your new favorite sonic drug.
HEAR FOR YOURSELF
---
NO COMPROMISE BOOSTING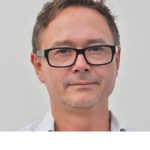 "Clean boosting may be a simple concept to grasp, but high-quality boosting of an analog signal is not just about notching everything up a few decibels. That's easy.
Just like I spent countless hours on testing analog components to develop the TrueOverDrive circuit, The Pusher builds on methodical testing and listening sessions to find the best possible ingredients that make up this highly intoxicating tone.
As a first step, I went to the main guitar pedal shop in Copenhagen and pulled down every clean booster from the shelf. Then, I started comparing and gained a good understanding of how the individual boosters colored the guitar sound in different ways. Next, I investigated the technology behind in depth. What makes up a great clean boost design? I ended up with a very simple design, that to my ears sounds better than any of the clean boosters I had compared during my research.
However, it turned out that this design was hard to port from hand-wiring to a mass-produced version. I did create a second version suited for production on a larger scale that sounded great. But the tradeoff was a tone that was just a bit more like the other – very good – clean boosters I had tried. Players who bought it really loved it, but the slight 'normalization' of the sound kept bothering me, and I felt I had compromised the perfect tone that I live and die for. Therefore, I made a decision that may have been foolish from a business standpoint, but it was the right one from a guitar player's and a tone aficionado's perspective. I pulled it from the product line as I felt it was almost perfect. 'Almost' is the keyword here…
Then, one morning, I woke up and literally had the solution to this problem in my head. I had an idea on how the great tone of the original version of the pedal could be produced at scale without compromising the vintage, tube-like flavor. It worked out perfectly, and here we are with a slightly modified version of The Pusher that I truly feel delivers the great tone of my original hand-wired design. I hope you will feel the same and enjoy letting The Pusher take you over the top."
Steen Grøntved
LunaStone Founder and Head Engineer
HIGHLIGHTS
Independent +15 dB level boost

Beef up rhythm parts, lift solos or push your drive to the max

Tiny footprint

High-quality components

True-bypass switching
---
SPECS & MANUAL
Chassis dimensions (W/D/H): 1.5″ x 3.7″ x 1.3″ (37 mm x 91 mm x 33 mm)
Weight: 125 g. (4.4 oz.)
Battery type: none
Adaptor type (not included): Standard 9V DC (center negative)
Power consumption: 2mA