Positive Grid BIAS Delay Pro
Valmistaja: Positive Grid
Tuotekoodi: PG-DEPR
Saatavuus: Varastossa
Your Infinitely Customizable Delay Pedal
With an all-metal frame and four rugged footswitches, the Positive Grid BIAS Delay Pro pedal is built to be a dependable delay solution for stage and studio. And with the awesome power of BIAS Pedal software to customize your delay effects, BIAS Delay Pro gives you more sonic flexibility than almost any other delay pedal out there.
It's perfect for guitarists and keyboard players alike, and you can design your own custom delay effects down to the component level or tap into countless custom delays available from the ToneCloud tone-sharing platform. With the flexibility to mimic classic delay effects and also create its own signature sound, the Positive Grid BIAS Delay Pro pedal is a one-stop solution for all your delay needs.


Choose from four core delay types


To cover your delay needs from vintage to modern, the Positive Grid BIAS Delay Pro pedal packs four distinct delay types to choose from. Standard delivers pristine digital delays — what you put in is what you get out, sonically speaking. Tape mode offers saturated vintage effects, while Ping Pong mode opens up the stereo field for immersive left/right delay effects. Finally, Reverse mode makes it easy to create backward delay effects. Delay times range from 1ms to 3,000ms, a wide enough range to cover everything from chorus effects to haunting echoes.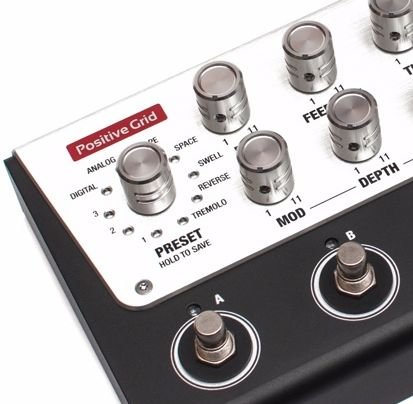 Customize your pedal at the component level


Thanks to Positive Grid's advanced modeling technology, BIAS Pedal software allows you to tweak your BIAS Delay Pro pedal at the component level. Modeled saturation and analog tone controls can add sonic richness at the input stage. Tweak the pedal's virtual power source to experiment with different headroom levels. You can even place two 8-band graphic EQs at various points in the signal chain to fine-tune the delay's exact sonic response, a favorite method at Sweetwater for shaping delay effects that won't cloud your mix. For software control, the BIAS Delay Pro pedal connects to your Mac or PC via USB or wirelessly to your iPad.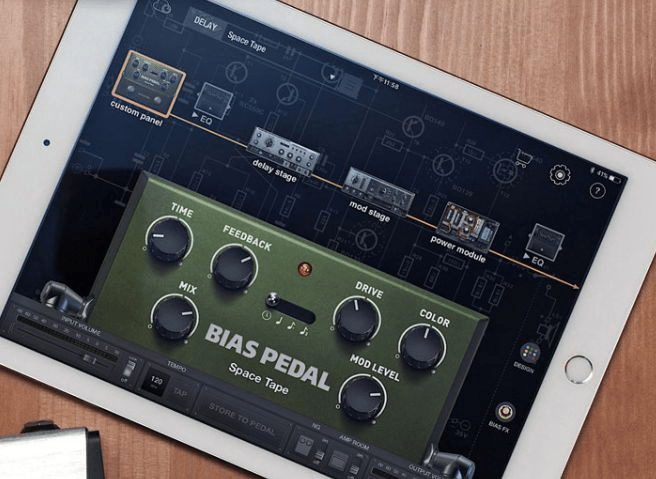 Sync to MIDI or your DAW


While the BIAS Delay Pro pedal features a handy Tap Tempo footswitch, you can easily sync its delay time to your DAW (via USB) or even to external MIDI gear. When sync'd to your DAW, BIAS Delay Pro offers delay times from 32nd-notes to whole notes, with dotted and triplet subdivisions.


---
Positive Grid BIAS Delay Pro Pedal Features:
Delay effects pedal for electric guitar

Comes with 10 presets based on the most popular styles of delay effects

Use the included BIAS Pedal software/app to create your own custom effects down to the component level

Share and explore custom tones on the ToneCloud tone-sharing platform

Full MIDI/USB implementation for flexible sync options

Control any parameter with an expression pedal (not included)

High-quality audio components and rugged metal construction

USB connectivity for PC/Mac, Bluetooth for iPad

---

Tech Specs

- Pedal Type Multi Delay pedal with Bias app

- Maximum Delay Time 3000ms

- Inputs 2 x 1/4" (left, right), 1 x 1/4" TRS (expression)

- Outputs 2 x 1/4" (left, right)

- MIDI I/O In/Thru

- True Bypass Switchable (true bypass or buffered)

- USB 1 x Type Micro-B

- Features Bluetooth (iOS), USB connectivity (PC, Mac)

- Power Source 9V DC power supply required (sold separately)

- Power Usage 270mA

- Height 2.46"

- Width 8.93"

- Depth 5.6"

- Weight 1,5kg

- Manufacturer Part Number PG-BIASDelayPro